This scrunchie is made from a dead stock fabric from a haute couture house
Regular price
Sale price
$23.07 USD
Unit price
per
Sale
Sold out
THE BENEFITS OF SILK

Silk is a natural fiber known to be an exceptional material for your hair.

Not only does it not damage them, but it also takes care of them in many ways thanks to the 18 amino acids and natural proteins it contains.

It is moisturizing and non-absorbent , allowing you to obtain healthy hair. If you have treatment in your hair, the silk will not absorb it.

It will prevent frizz and allow you to tame your hair.

Silk is hypoallergenic and anti-bacterial. It retains very few impurities, which makes it more hygienic .

Thanks to its many advantages, wearing this scrunchie will allow you to obtain softer, supple and shiny hair.
Silk crepe, a soft, healthy and natural fabric

Haute couture and responsible textile
Perfect hold for thick and thin hair
Handmade, ethical and local manufacturing
Made of fabric elastic that does not stretch
Material: Blue crepe, 100% silk
THREE MONTHS WARRANTY

If your scrunchie breaks for no reason within three months of your purchase, we will refund you or send you a new one of your choice of the same value as the one you ordered, the choice is yours!

This way, you ensure that your accessory will last over time .
FREE DELIVERY IN SWITZERLAND

You will not pay any delivery costs in Switzerland!

Normally, you will receive your order within 3 to 7 working days following your order if you live in Switzerland.

Do not hesitate to leave us a message if you need to receive it more quickly .

In the rest of Europe, delivery costs €4, excluding customs fees.

Outside Europe, delivery costs are approximately $10, excluding customs taxes.
SATISFIED OR REFUNDED

You have 30 days after receiving your order to send it back to us if you don't like it.

In fact, you can receive your favorite at home, observe the color and quality of the material, see if it fits well with the thickness of your hair and test how well the elastic holds.

There is no justification to give if you decide to send it back to us.
Size guide
Care tips
Low stock
View full details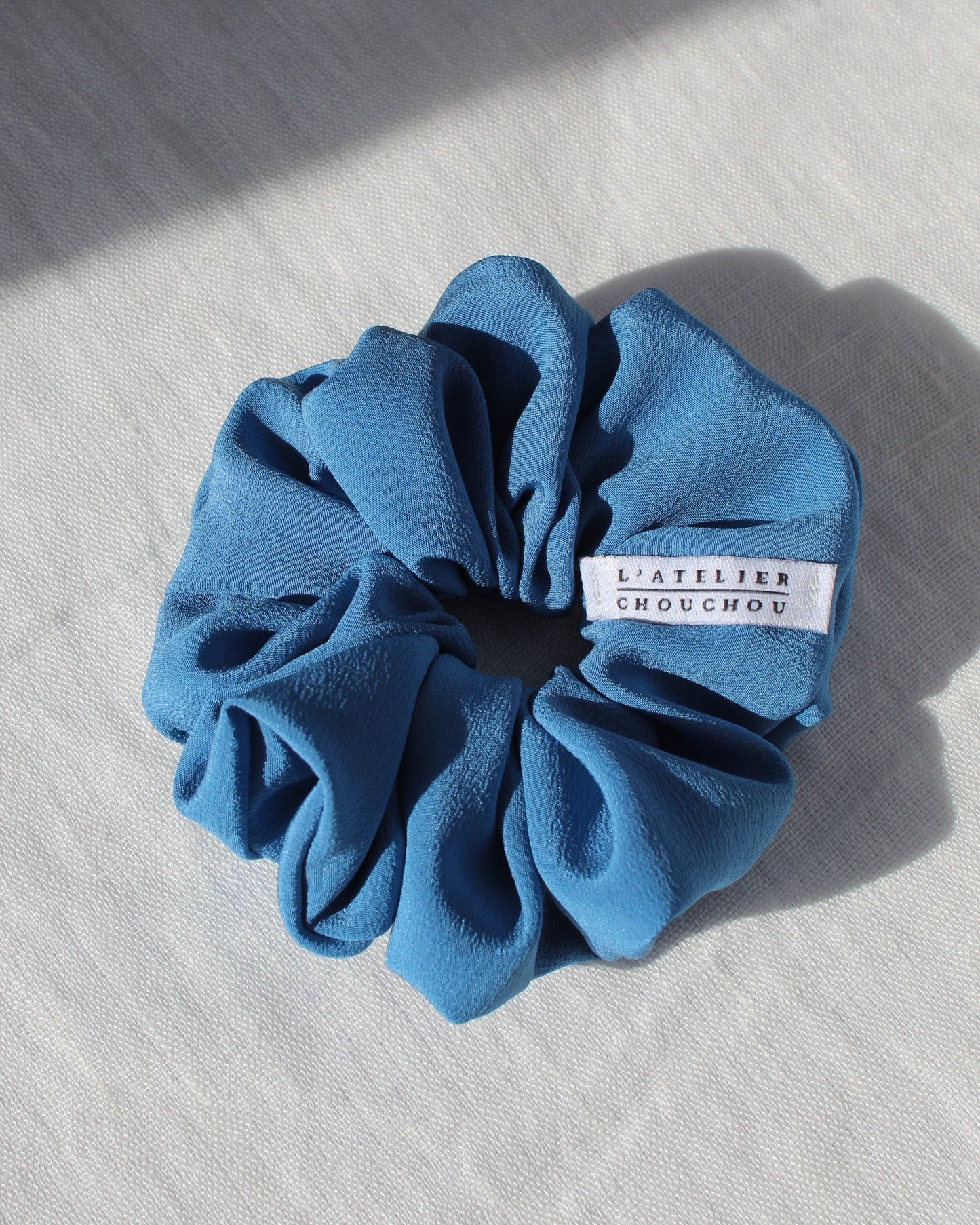 SIZE GUIDE
The elastics that we use to design the scrunchies hold both thick and thin hair perfectly. This is why the only difference between the two available sizes is visual, the elastic inside is the same.
In the photo below, you can see the difference in size between the "small" on the left (around 9cm in diameter) and the "classic" on the right (around 13cm in diameter):
MAINTENANCE TIPS
We advise you to wash your accessory by hand in a sink or basin! Use your usual detergent for hand washing, with cold or lukewarm water.
Rub it gently to remove dirt from the fabric without wrinkling it. Then rinse it with cold water and lay it flat on a towel to dry. If you want to dry it in the sun, don't leave it for more than an hour to preserve its color.
If you really don't want to wash it by hand, you can try washing it in the washing machine. However, there is a greater risk of creasing it. To prevent your favorite from shrinking, it is best to machine wash at 30° and use a lingerie bag!
Be careful not to dry it in the dryer after washing.
YOU DON'T WANT A SCRUNCHIE BEING:
1.

From a "fast fashion" production

3.

Made with poor quality material

4.

Composed of a quickly relaxing elastic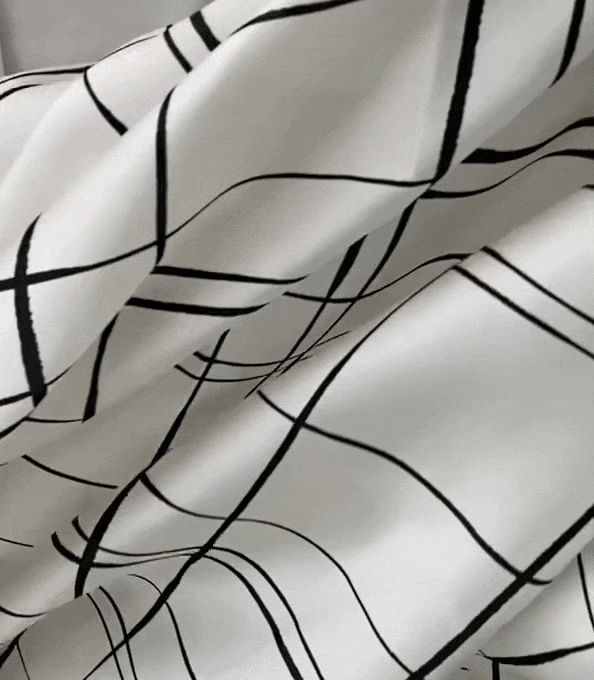 UPCYCLED FABRICS
We live in a world where the most luxurious fabrics, intended to embellish haute couture catwalks, simply end up thrown away, forgotten, wasted.
We therefore decided to avoid participating in the pollution caused by the fashion industry by giving a second life to dead stock fabrics from haute couture houses.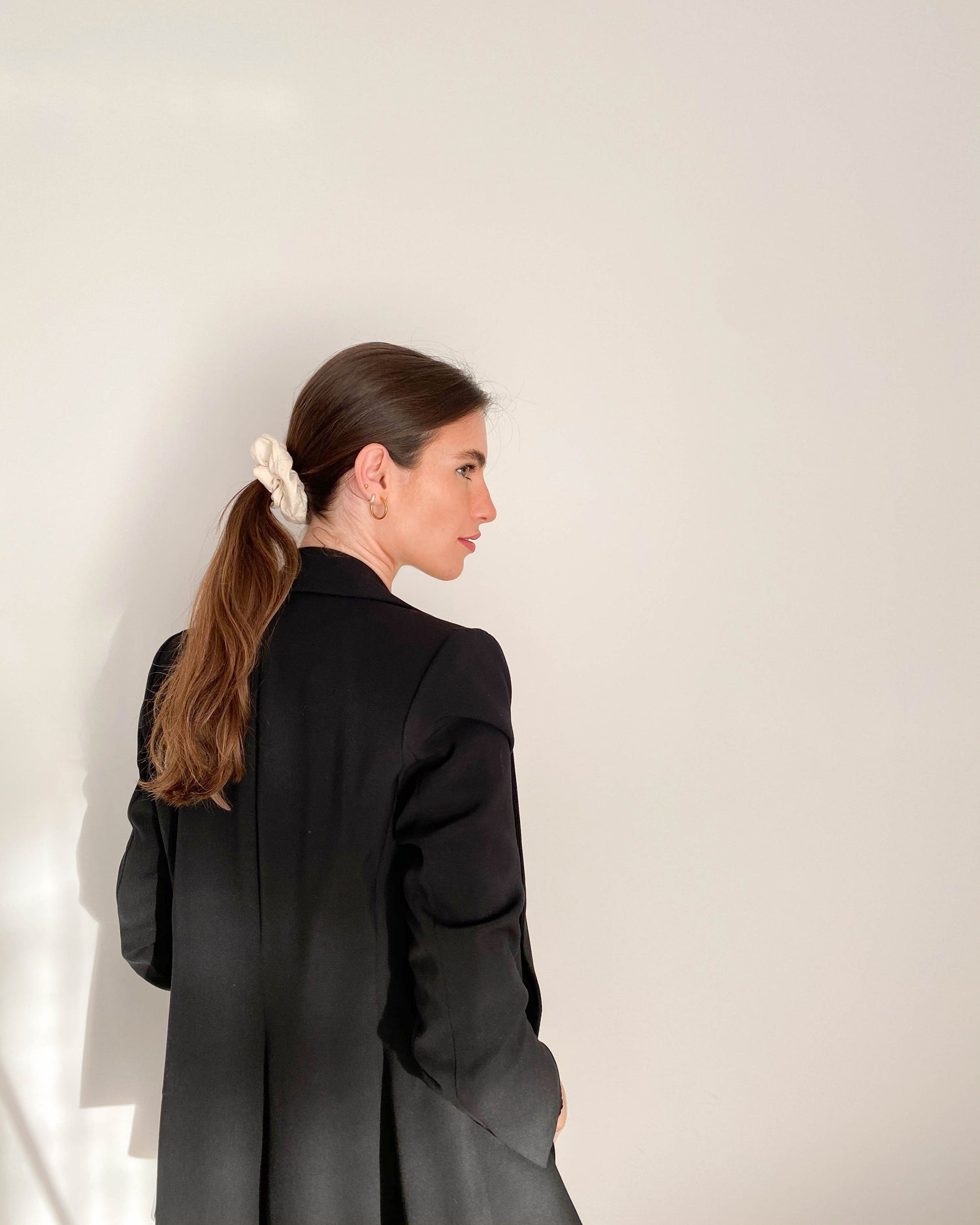 SUITABLE FOR ALL HAIR TYPES
Have you ever experienced the frustration of a scrunchie that slips or pulls your hair too much?
It doesn't matter whether you have thick or thin hair, the flexibility of the scrunchie will hug your hair gently and effectively.
HAUTE COUTURE QUALITY
A scrunchie that tears or fades after a few uses has almost become the norm.
Our haute couture fabrics ensure the best quality on the market and we offer you a three-month guarantee on your favorite. So you will have time to test its quality.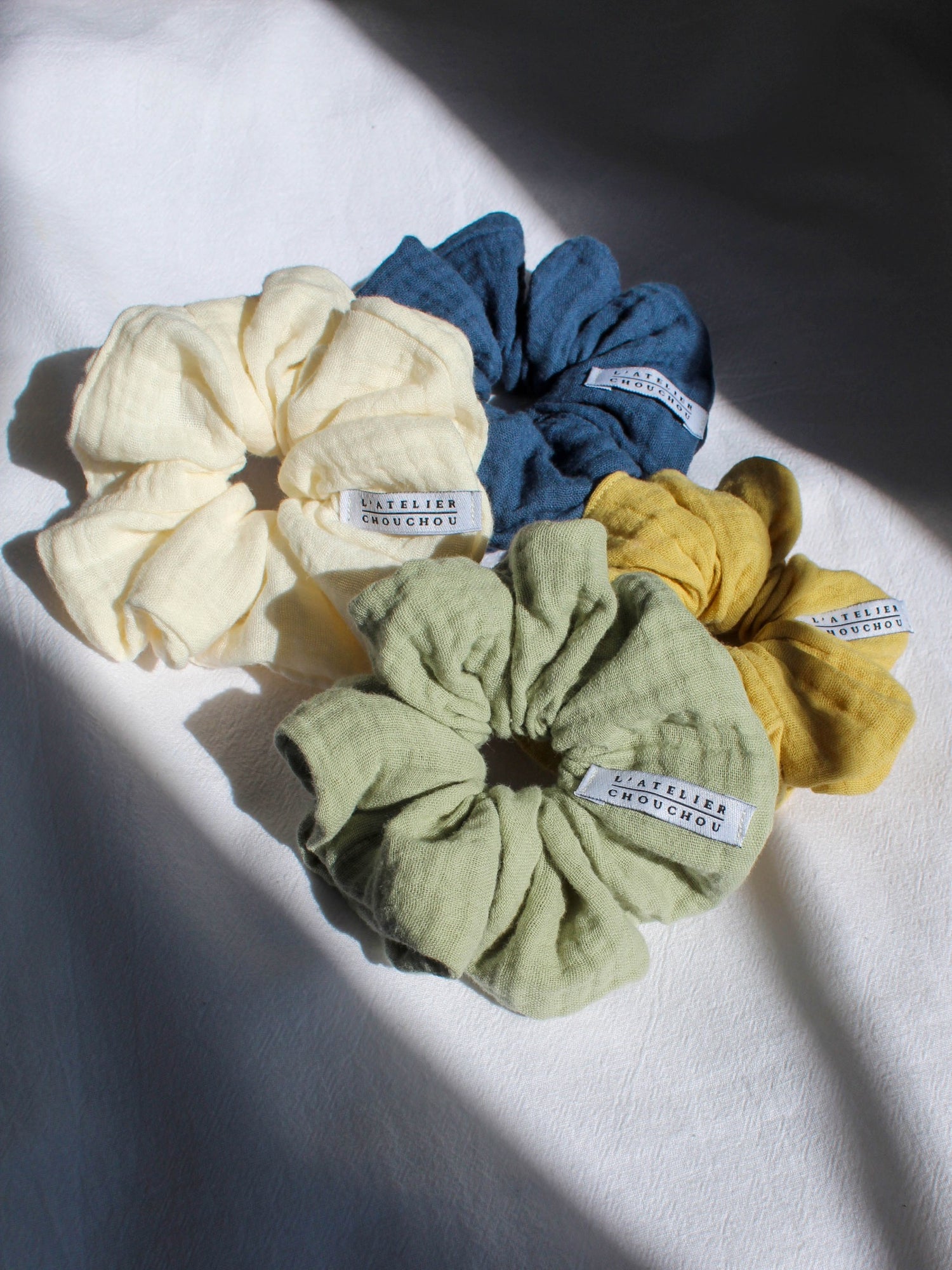 DURABLE ELASTICITY
You will be able to keep your scrunchies for the long term without them losing their elasticity.
The fabric elastics we use will hold your hairstyle in place, day after day.
REVIEWS
"I've tried several scrunchies from other brands but it's yours that I prefer in terms of hold, elasticity and above all beauty 😍" @stlgws_

"They absolutely don't hurt my hair, it's as if I hadn't tied them up, it's incredible! And it holds really well on my hair which is quite fine, it's great! 🫶" @marina_jrl

"The scrunchies are magnificent and of incredible quality 😍, thank you for your work 🫶🏼" @aureglos